Our house is a 1924 cottage on 3/4 acre of old olive orchard. We have put alot of work into it, and there is alot more left to be done. There were four major projects that needed attention in the first six months.
The first project was the interior. The previous occupants were heavy smokers and the house just smelled like an ashtray. Also, the ceilings were some bizarre texture used in pizza parlors in the 70's. Everything was also painted the same dull grey-white color.
The second project was to weatherize the house for winter. There is no insulation in the walls, and there were big cracks in the old wooden siding.
The third project was to deal with drainage. Water from uphill would run down to the road, then down the driveway and up against the front corner of the house.
The fourth project was to install central heating and air conditioning. There was one non-functioning electric wall heater when I moved in, now there is a gas furnace in the attic :-)
The fifth project is landscaping, and will be an ongoing effort. Building river rock retaining walls, laying a brick pathway, and getting lawn to grow where the driveway was are the initial stages of the project.
The sixth project was to build an arbor over the old garage slab, in order to make it a more pleasant patio space.
The seventh project is landscape planting.
Here are a few pictures showing how the house has changed. These pictures are from around 1990, while my neighbor was removing eight dumpsters of junk from the property. Notice the house still has the original double hung sash windows, and a garage back there on the left. The first picture shows the old garage and some of the mess. Also, that tree in the foreground was just a stump when I moved in and I had it removed.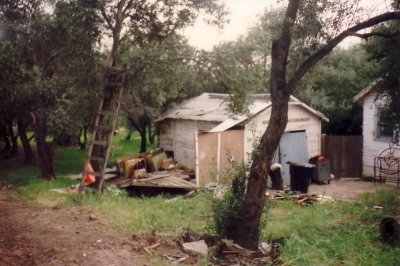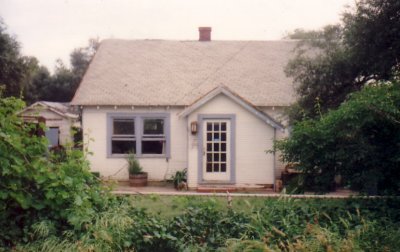 These next two pictures show the house as was in 1999. The exterior is all one color, and you can see some of the warped siding. There is also a rough picket fence made of wooden stakes used for cement forms (with cement still on them). The garage is gone, and there is a tar paper shed built right behind the house.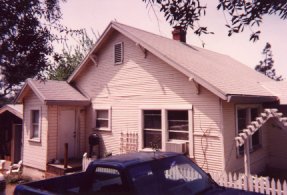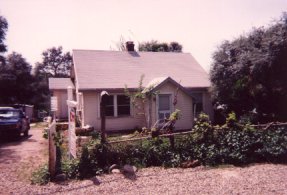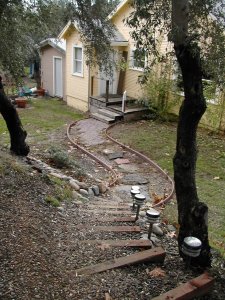 Here the house in 2001. The driveway has been removed and there is still a temporary path to the house. The picket fence is also gone, but will eventually be replaced by one across the front of the property.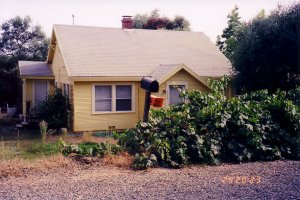 ...and of course what home would be complete without a rusted out cougar in the back?